Office: 818.727.1242 Email: WebsPtg@aol.com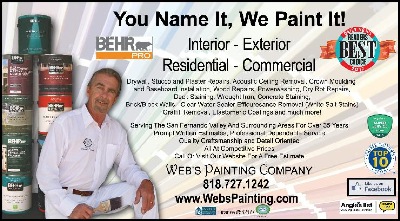 You Name It, We Paint It!

Interior and Exterior Residential, Commercial and Industrial Painting

Serving the San Fernando Valley, Simi Valley, Santa Clarita, Valencia, Moorepark, Oak Park, West Ranch, Thousand Oaks, Westlake Village, Camarillo, Palm Springs, Lake Arrowhead, Paso Robles, Oceanside. All areas from San Diego to Santa Barbara.

Residential Services Include

Residential Homes Of All Sizes
Block/Brick Walls-Clear Water Sealer
Efflouresance Removal (White Salt Stains)
Wrought Iron - Gates - Fencing - Ornamental
Wood - Gates - Fencing - Cabanas
Wood Cabinets - Stairway Ballisters - Doors
Refinishing - Restaining
Wood, Stucco, Plaster and Drywall Repairs
Wallpaper Removal and Wall Repair
Remodels - Small Jobs
High Pressure Power Washing - Annual or Semi Annual Maintenance Service
Painting Maintenance Programs - Annually
Residential Properties Click here for more info on Residential Services
Commercial Services Include

Commercial Buildings - Tenant Improvements - Industrial
Shopping Centers - Graffiti Removal - Strip Malls - Warehouses
Apartment and Condominium Complex's
Graphic Striping
Safety Yellow Pipe Bollards - Light Standard of All Heights
Curb Color Coatings - Sign Cans
Brick/Block Walls-Clear Water Sealer
Efflouresance Removal (White Salt Stains)
Wrought Iron - Roll Up Doors -
Elastomeric Coatings to Mineral Rolled Roofing
Wood, Stucco, Plaster and Drywall Repairs
High Pressure Power Washing - Annual or Semi Annual Maintenance Service
Painting Maintenance Programs - Annually
After Hours Scheduling
Commercial Properties Click here for more info on Commercial Services
California State Contractors License #532177